Del Valle ISD, a rapidly growing district outside of Austin, enlisted Paragon Sports Constructors as the general contractor of a multi-campus renovation to improve its athletic facilities. The project called for renovations at two middle schools campuses and the district baseball-softball complex that encompassed turf, track, and structural upgrades.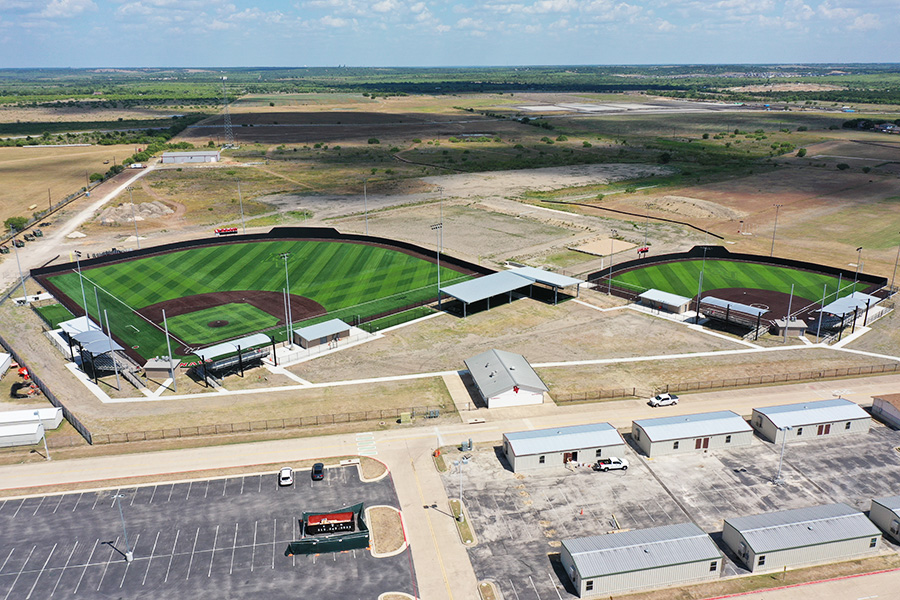 ---
---
GOALS & PAIN POINTS
The owner's goal with this project was to create equity between athletic programs in the district by improving the baseball and softball facilities and enhancing the middle school fields and tracks. The middle school tracks were experiencing surface separation and failure at both schools. New backstops and dugouts at softball and baseball were a necessity as the previous were antiquated and in need of updates to match the standards of other facilities in the district. All four fields were equipped with synthetic turf to address rainouts and missed practices due to weather.
---
---
BASEBALL & SOFTBALL
The baseball and softball project scope did not stop at turf conversions. Both fields were equipped with new dugouts, batting cages, backstops, fencing, and shade structures in conjunction with their updated playing surfaces. The existing press boxes were renovated and both fields were updated with LED lighting. In addition to the other structural changes, a water quality and detention pond was installed behind the baseball and softball fields to assist in the drainage for both fields.
ONE-OF-A-KIND BASEBALL FIELD
Del Valle's synthetic turf baseball field features a unique infield plaid pattern that extends down the foul lines to the outfield fence. The pattern was achieved through Shaw Sports Turf's proprietary Game On technology where logos, lines, and patterns can be tufted into the turf panel during manufacturing, providing more creativity for the owner in the design process. Learn more about Game On capabilities and view our recent Game On projects here.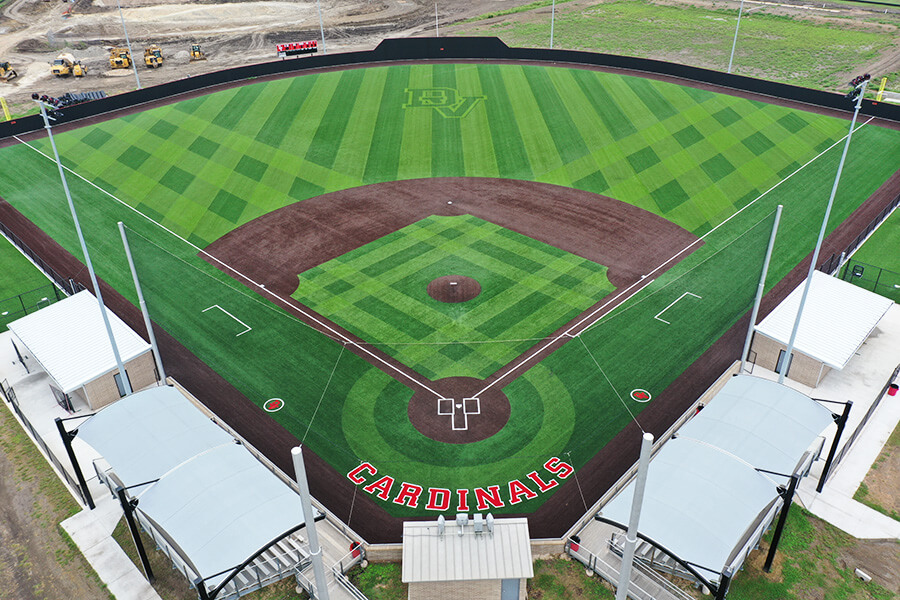 ---
---
MIDDLE SCHOOL IMPROVEMENTS
The Ojeda and Dailey Middle School projects included turf conversions, track resurfacing, new lighting, and water quality pond modifications. The tracks were resurfaced with Paragon Track Surfaces 5010, a 10-mm full pour system that will provide a durable track for years to come. Both schools had existing detention ponds that were modified to meet code, and a rain garden was built at Dailey Middle School to assist with drainage and water runoff from the school facilities.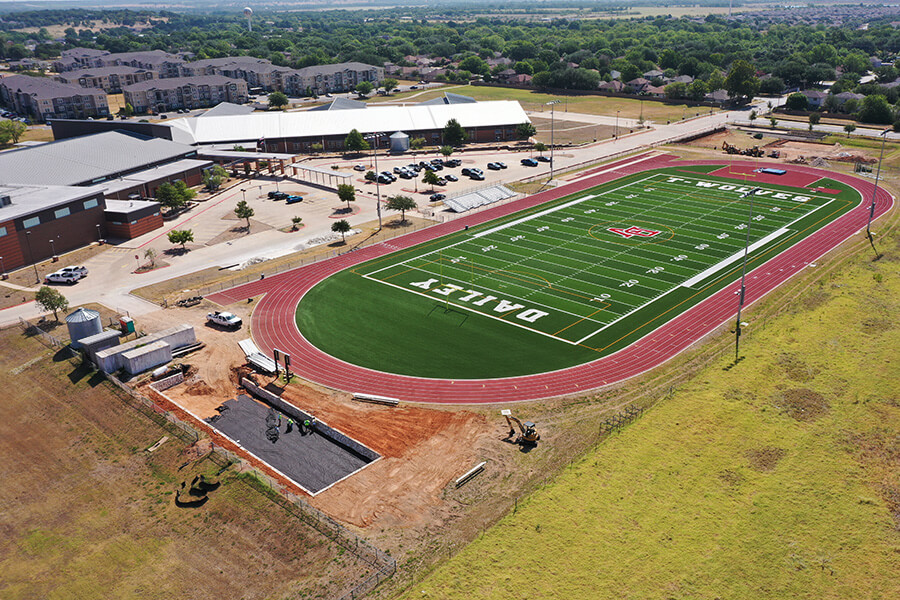 ---
---
RESULTS
The project overall has had a pivotal impact on the community as it has not only enhanced the public image of the district but has also increased pride and moral of the community. The renovated facilities provide ample opportunity for the district to host local, regional, and state events throughout the year while providing a positive gameday experience for both the spectators and players.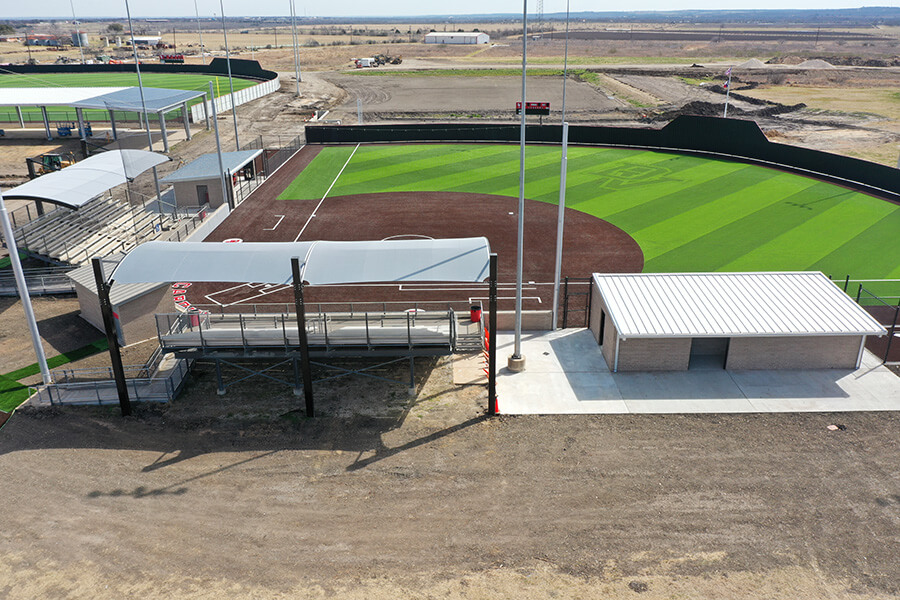 ---
---
PROJECT DETAILS
Baseball: Grass areas Shaw Sports Turf Legion Pro / Base path & pitcher's mound Shaw Sports Turf TruHop / Warning track Shaw Sports Turf Momentum Pro
Softball: Infield Shaw Sports Turf TruHop / Outfield Shaw Sports Turf Legion Pro / Warning track Shaw Sports Turf Momentum Pro
Ojeda & Dailey Middle School Football Fields: Turf Shaw Sports Turf Legion NXT / Pad Brock YSR / Track Paragon Track Surfaces PTS 5010 10mm full-pour
---
About paragon sports constructors
Paragon Sports Constructors is a turn-key contractor of natural and synthetic turf sports fields, running tracks and tennis courts based in Fort Worth, Texas. With over 30 years of sports construction experience they are one of the premier sports fields and running track contractors in the South-Central United States. Paragon Sports Constructors is a member of the American Sports Builders Association who remains focused on quality construction practices, choosing to partner with top brand name manufacturers of synthetic turf and track surfacing to provide clients a consistently high-quality project from planning to first use. For more information on Paragon Sports Constructors please visit www.paragon-sports.com or follow them on Twitter @ParagonSportsCo.