Looking to reduce rain delays while providing their students and community with elite fields for practice and play, Richardson ISD turned once again to Paragon Sports Constructors to convert the grass baseball and softball fields at Berkner, Lake Highlands, and Richardson High Schools. The new fields match those installed in 2021 at J.J. Pearce High School, and feature GameON technology from Shaw Sports Turf.
---
---
PROJECT DETAILS
The field conversions involved building a foundation to assist in the drainage and stability of each field. The scope of work included excavation, sub-grade stabilization, new concrete perimeter curbs, drainage rock, and turf installation on the fields of play, batting cages, and bullpens, all of which were performed turnkey by Paragon personnel.
---
---
client GOALS
Richardson ISD's main goal with this project was to select quality turf fields that not only look great but play true for both sports. The schools also wanted more opportunities for leasing the fields to the community, more consistent playing surfaces, and improved drainage to ensure no games were lost due to poor field conditions. These goals were met through the combination of Paragon Sports' construction expertise for drainage and installation and the playability of Shaw Sports Turf systems developed through many years of natural grass and athlete biomechanics research.
---
---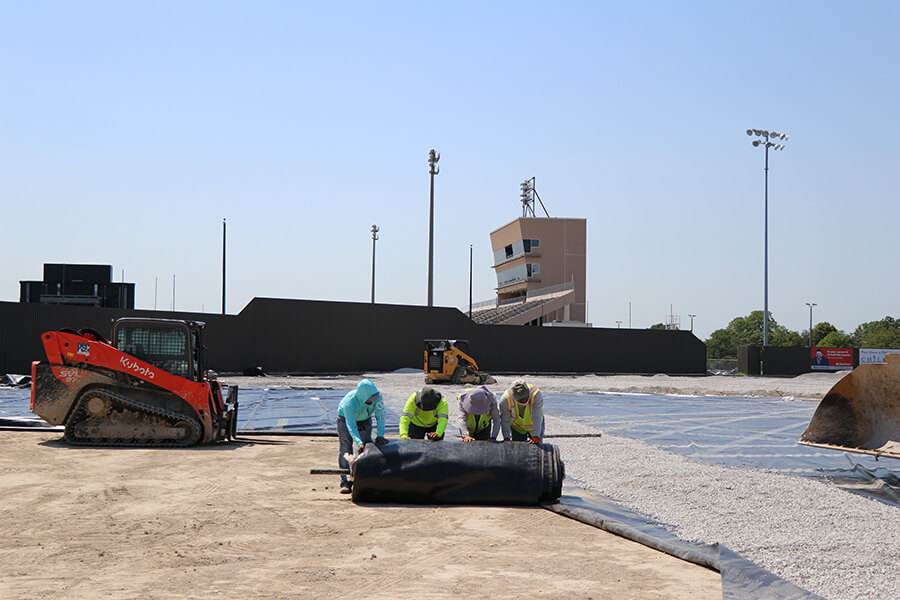 game on innovation
The baseball infields feature Shaw Sports Turf's Game On innovation, a new approach to turf manufacturing where logos and designs are tufted together into the turf panel. Game On allows owners to be more creative with their field design while also eliminating cuts, and extra maintenance, in the field. Through Game On, all Richardson ISD baseball fields feature a crisscross mow pattern in their infields. Learn more about Game On here.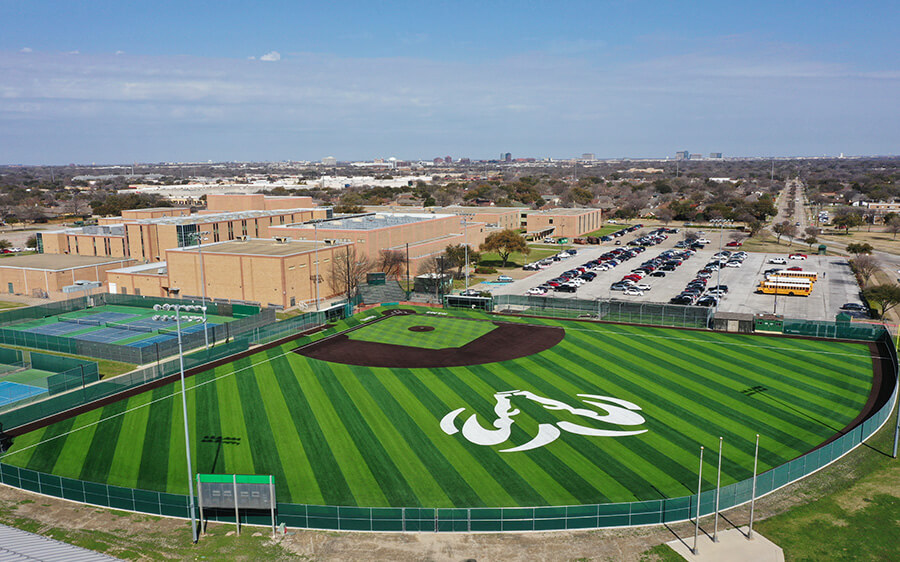 project details
Baseball: Grass areas Shaw Sports Turf Powerblade Pro / Base path & pitcher's mound Shaw Sports Turf TruHop / Warning track Shaw Sports Turf Momentum Pro / Batting cage & bullpen Shaw Sports Turf Elevate / Infill Sand, Rubber, & Geofill
Softball: Infield Shaw Sports Turf TruHop / Outfield Shaw Sports Turf Powerblade Pro / Warning track Shaw Sports Turf Momentum Pro / Batting cage & bullpen Shaw Sports Turf Elevate / Infill Sand, Rubber, & Geofill
---
About paragon sports constructors
Paragon Sports Constructors is a turn-key contractor of natural and synthetic turf sports fields, running tracks and tennis courts based in Fort Worth, Texas. With over 30 years of sports construction experience they are one of the premier sports fields and running track contractors in the South-Central United States. Paragon Sports Constructors is a member of the American Sports Builders Association who remains focused on quality construction practices, choosing to partner with top brand name manufacturers of synthetic turf and track surfacing to provide clients a consistently high-quality project from planning to first use. For more information on Paragon Sports Constructors please visit www.paragon-sports.com or follow them on Twitter @ParagonSportsCo.