Tasked with a tight timeline and a comprehensive project scope, Paragon Sports Constructors was selected by Fort Worth Country Day for their athletic facility renovations campaign in 2022. Chosen not only based on competitive pricing and proximity to the project location, but also the confidence and comfort the Fort Worth Country Day staff felt in the PSC project team. The completed facilities serve FWCD's football, lacrosse, soccer, field hockey, PE, and strength & conditioning programs. All facilities provide a place for Fort Worth Country Day community events, as well as opportunities to bring new people to their campus, and establish relationships with external groups in the surrounding area.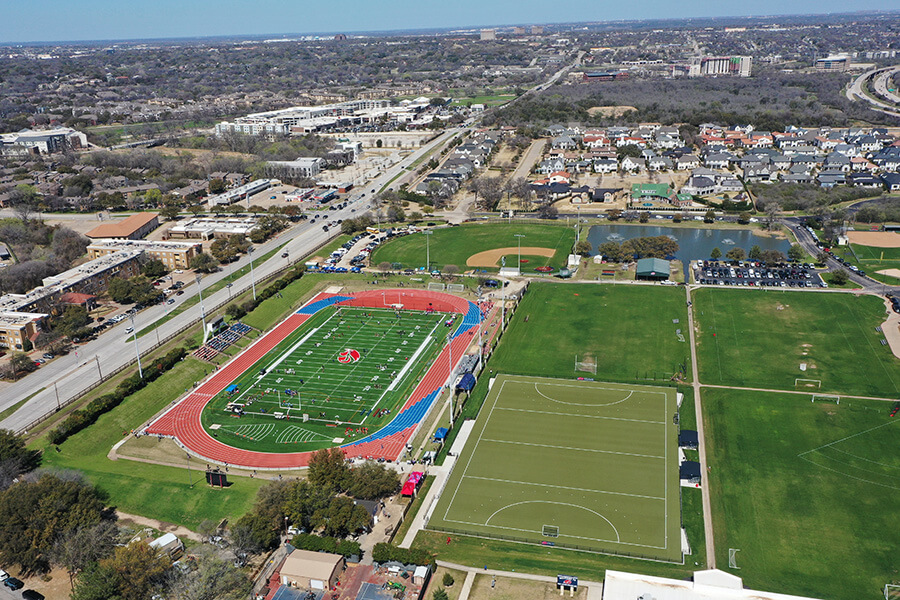 ---
---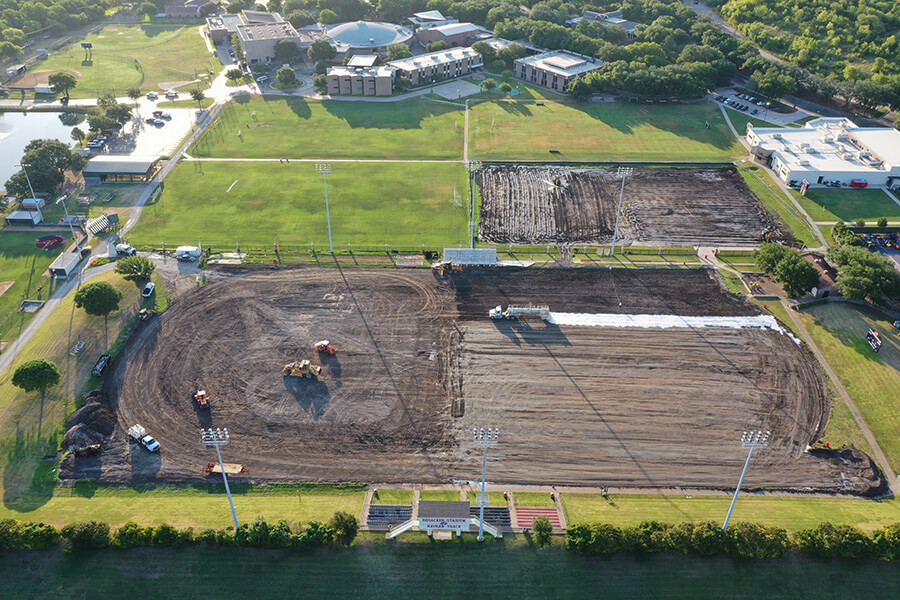 PROJECT SCOPE
Demo existing track & grass field
Site balancing for planarity & drainage
Water injection and lime cap on football field
New drainage systems for field and track
Installation of new synthetic turf football field with soccer and lacrosse lines
Installation of new 8-lane sandwich system running track with colored exchange zones
Installation of "wet" synthetic turf field hockey field with water cannon system
Installation of bleachers and shade structures at hockey field
---
---
PROJECT GOALS
With this project, Fort Worth Country Day wanted to address drainage issues that plagued their fields and decrease the number of practice and game cancellations due to poor playing surface conditions. To do this, they looked to renovate their aging track, convert the natural grass football field to synthetic turf, and install a state-of-the-art wet field hockey field.
SOLUTIONS
To ensure proper drainage of the synthetic turf multipurpose field and running track, the site had to be balanced to correct the existing, two-foot slope North to South across the field before installing a vertically draining stone base for the playing surfaces. To assist site drainage, the project team bore through the 15-foot berm behind the North endzone to install three, 15-foot drainpipes to handle field run-off, and create outfall into the sewer system.
The running track was re-built and expanded to accommodate 9-lanes for competition and features an impermeable sandwich system surface with colored exchange zones.
The multipurpose playing field features a performance system comprised of a pad and hybrid turf with sand, rubber, and Geofill infill mix. The Geofill blended system can assist in evaporative cooling of the surface and reduce surface temperatures when moisture is present in the mix. For more on the football and track project, click here.
---
---
NEW TO NORTH TEXAS
The Fort Worth Country Day project also included the first "wet" field hockey field installation in North Texas, and third in the Lone Star State.
The field features six water cannons installed by Paragon Sports Constructors natural grass team and are typically used for practice, pre-game and during halftime of field hockey matches. Additional project details can be found here.
Installation of new shade structures and bleachers were also included in the field's project.
---
---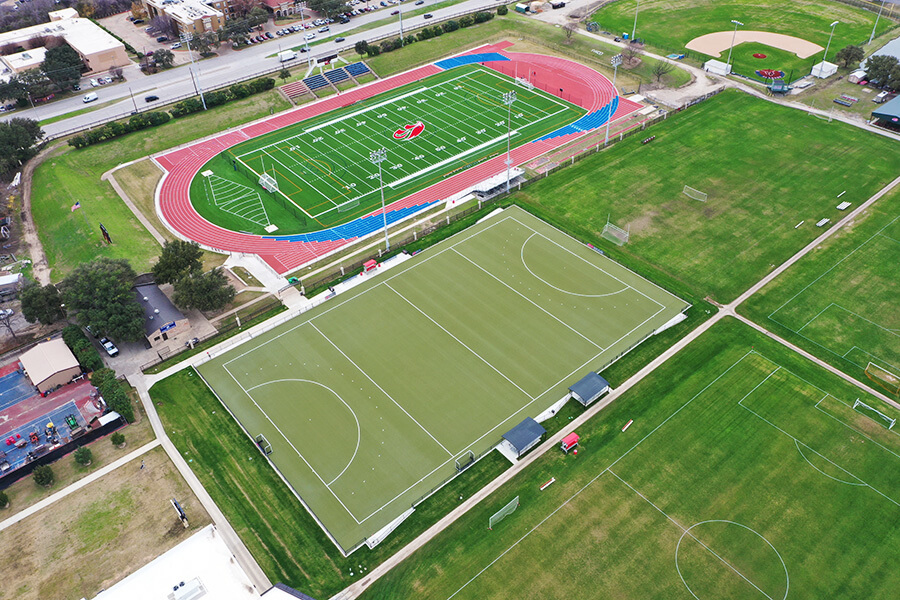 About paragon sports constructors
Paragon Sports Constructors is a turn-key contractor of natural and synthetic turf sports fields, running tracks and tennis courts based in Fort Worth, Texas. With over 30 years of sports construction experience they are one of the premier sports fields and running track contractors in the South-Central United States. Paragon Sports Constructors is a member of the American Sports Builders Association who remains focused on quality construction practices, choosing to partner with top brand name manufacturers of synthetic turf and track surfacing to provide clients a consistently high-quality project from planning to first use. For more information on Paragon Sports Constructors please visit www.paragon-sports.com or follow them on Twitter @ParagonSportsCo.