The Tale of Two Playing Surfaces
In support of the Texas A&M AgriLife Extension program, we are proud to support this fun and informative event: THE TALE OF TWO PLAYING SURFACES led by Chrissie A. Segars, Ph.D., Texas A&M AgriLife Extension.
WHY ATTEND
Research & innovation in the sports field industry is evolving at a rapid pace & we know more about sports fields, natural and synthetic, than we did five, ten or more years ago as an industry.
WHO SHOULD ATTEND
School district or municipal personnel tasked with maintaining athletic facilities as well as design and construction professionals tasked with writing athletic field specifications.
WHAT TO EXPECT
This interactive one-day workshop is focused on trending industry topics of maintenance, safety and performance testing of both natural and synthetic surfaces led by industry innovators from the Arizona Diamondbacks, FC Dallas, Shaw Sports Turf and Paragon Sports Constructors. Breakfast and lunch will be provided as well as live, on-field testing demonstrations with Allen Reed of FC Dallas and Philipe Aldahir, Ph.D. of Shaw Sports Turf. The cost of the workshop will be $20/person and will include CEU's from the National STMA Certified Sports Field Manager program and the Texas Turfgrass Association Certified Professional Turf Manager program. It's sure to be a fun day, bringing together both sides of the sports turf industry in one interactive event.
WHEN
Wednesday, October 16th
WHERE
FC Dallas Toyota Soccer Center
9200 World Cup Way
Frisco, TX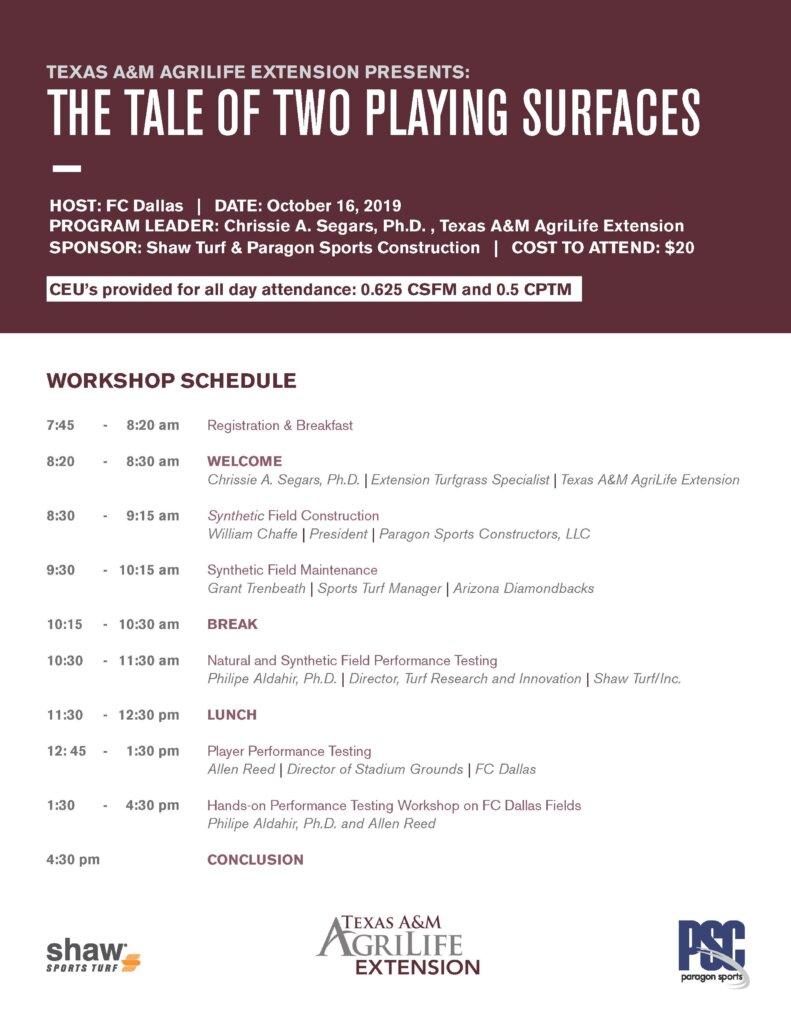 Please feel free to contact Katie Markovich, Director of Marketing, with questions at 817-916-5000 or kmarkovich@paragon-sports.com