Rockwall ISD Selects PSC for Rockwall HS Field Improvement Project
(Rockwall, TX) — Rockwall Independent School District has selected Paragon Sports Constructors for the Rockwall High School Multi-Purpose Synthetic Turf Field Improvement Project.
"We are honored to continue our relationship with Rockwall ISD through this project," said Paragon Sports Constructors Project Manager, Bobby Killion. "The only way to earn trust in the construction industry is through execution and repeat work from customers like Rockwall lets us know that we are doing things right."
The project was engineered by Jeff Bresee of SET Engineers and construction is set to begin in February with substantial completion at the end of May. The scope of work includes demolition of the existing site, subgrade stabilization, construction and installation of the new drainage system, flatwork, fencing, netting and synthetic turf surface manufactured by Shaw Sports Turf.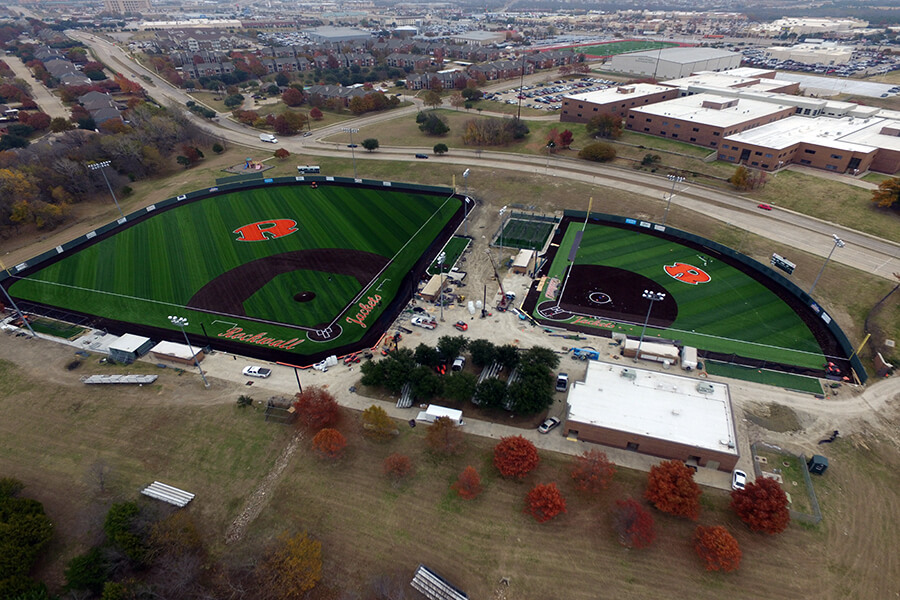 About Paragon Sports Constructors
Paragon Sports Constructors is a turn-key contractor of natural and synthetic turf sports fields, running tracks and tennis courts based in Fort Worth, Texas. With over 30 years of sports construction experience they are one of the premier sports field and running track contractors in the South Central United States. Paragon Sports Constructors is a member of the American Sports Builders Association who remains focused on quality construction practices, choosing to partner with top brand name manufacturers of synthetic turf and track surfacing to provide clients a consistently high-quality project from planning to first use. For more information on Paragon Sports Constructors please visit www.paragon-sports.com or follow them on Twitter @ParagonSportsCo.
About Shaw Sports Turf:
A wholly-owned subsidiary of Berkshire Hathaway Inc., Shaw Industries is a full flooring provider to the residential and commercial markets. Shaw supplies carpet, hardwood, laminate, resilient, and tile/stone flooring products, as well as synthetic turf. Shaw Sports Turf is one of the leading synthetic turf companies in North America and has represented quality and innovation for more than two decades with over 2,000 successful installations, including an impressive list of high-profile field installations. For more information please visit http://shawsportsturf.com, call 866-703-4004 or find them on Facebook.