­Fort Worth — after thirty years serving in multiple roles as Head Football Coach and Athletic Director, Tim Buchanan has announced his retirement for the second and final time from Aledo ISD and returning to Texas sports contractor, Paragon Sports Constructors.
Buchanan arrived in Aledo in 1993 and served dual roles as head football coach and athletic director from day one. Under his tenure as Athletic Director from 1993 to 2018, Aledo built a winning legacy, with state championships in football, golf, baseball, and softball, as well as state championship appearances in boys' soccer, girls' soccer, volleyball and girls basketball, and finally, individual state championships in track and field and cross country.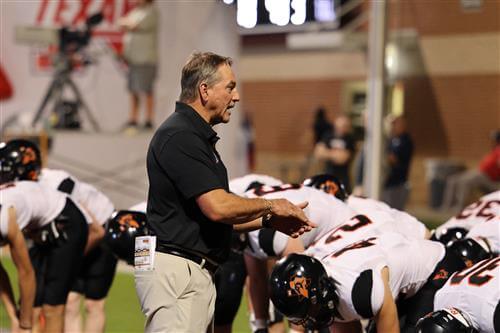 During his coaching tenure, Buchanan's record was 281-58-3 while winning 8 of the 11 total state championships at Aledo, a UIL-record in Texas. He was recently elected to the Texas High School Coaches Association Hall of Honor and will be inducted at the ceremony in July at the association's annual Coaching School and Convention in Houston. Buchanan was also recently honored by "Dave Campbell's Texas Football" magazine as one of the top ten football coaches in Texas.
"Coach Buchanan has an excellent reputation and will bring back a unique perspective to our sales team having worked with Paragon and others on numerous athletic construction projects at Aledo," said Paragon Sports Constructors' President, William Chaffe. "Tim is a proven leader and winner who fits our culture well. We are looking forward to having his leadership and experience at PSC once again as we continue to grow and strengthen our services for Texas schools."
"When looking for a career after education I wanted to find something that would keep me tied to athletics and working for Paragon does just that," commented Tim Buchanan. "I will still be able to interact with coaches, share what I've learned as a coach and administrator, and help provide great surfaces for athletes to train and compete on."
Buchanan will return to his role at Paragon Sports Constructors immediately while remaining an advisory point of contact for Aledo ISD as they transition to a new athletic administration.
About Paragon Sports Constructors
Paragon Sports Constructors is a turn-key contractor of natural and synthetic turf sports fields, running tracks and tennis courts based in Fort Worth, Texas. With over 40 years of sports construction experience they are one of the premier sports field and running track contractors in the South-Central United States. Paragon Sports Constructors is a member of the American Sports Builders Association who remains focused on quality construction practices, choosing to partner with top brand name manufacturers of synthetic turf and track surfacing to provide clients a consistently high-quality project from planning to first use. For more information on Paragon Sports Constructors please visit www.paragon-sports.com, or follow them on social media at LinkedIN, Twitter, and Facebook.