As Texas continues to grow each year, school districts around the state are searching for the best use of space at their campuses. Consolidation of athletic facilities can help them maximize space for athletics and reduce maintenance costs for the district while still supporting its students. Below highlights the different ways multipurpose turf fields can be assembled to best serve your district's needs.
---
Featured Projects
Rockwall ISD wanted the opportunity for multiple sports to utilize their high school campuses' synthetic turf fields. Both fields feature baseball and softball infields inside the football field, with a baseball mound, batting cage, discus, and shot-put area on the perimeters.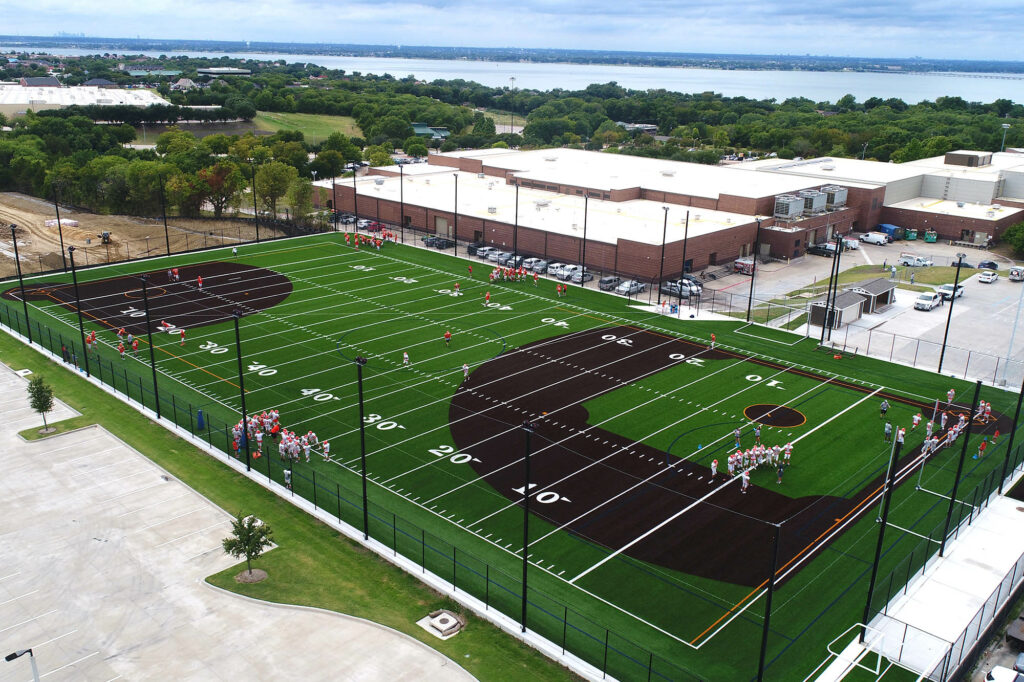 ---
Located in the heart of the city, Dallas ISD was looking for a sports field fit for their minimal space at North Dallas High School, resulting in a multipurpose field with baseball, softball, football, and soccer lines.
---
A land locked district in the middle of Fort Worth, Castleberry ISD utilized creativity for their field with baseball and softball infields outside of the football and soccer field's endzones.
---
Cedar Crest Community Center in Dallas serves over 17,000 residents in the Cedar Crest neighborhood. Utilizing both baseball and football marks on their field, Cedar Crest can host their community athletic events year-round.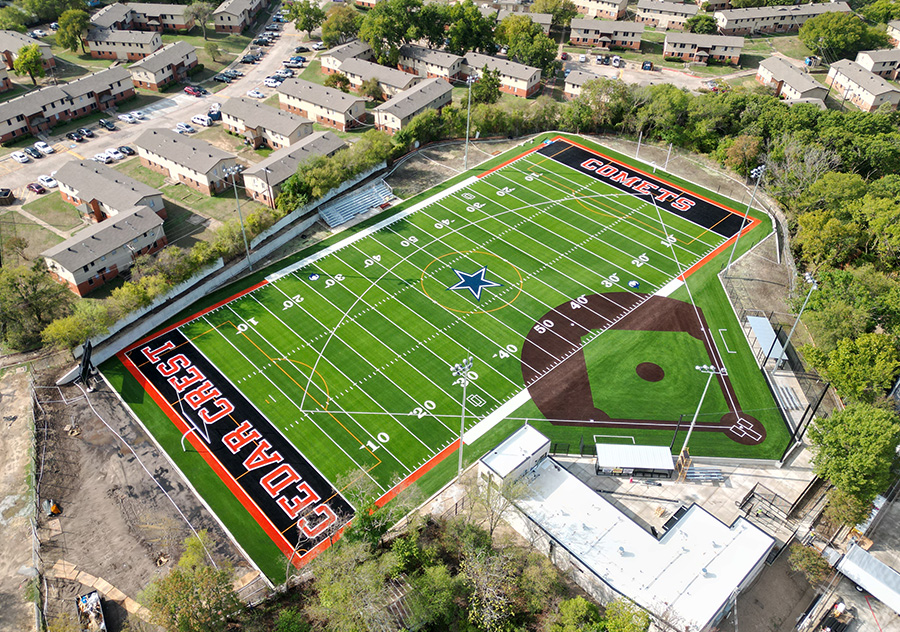 ---
As a turn-key athletic facility services provider, Paragon Sports Constructors understands the complexities of installing and maintaining synthetic turf fields. We aim to be your partner in ensuring peak performance for all your athletic surfaces, all year round. Put our team to work for yours.
About Paragon Sports Constructors
Paragon Sports Constructors is a turn-key contractor of natural and synthetic turf sports fields, running tracks and tennis courts based in Fort Worth, Texas. With over 40 years of sports construction experience they are one of the premier sports field and running track contractors in the South-Central United States. Paragon Sports Constructors is a member of the American Sports Builders Association who remains focused on quality construction practices, choosing to partner with top brand name manufacturers of synthetic turf and track surfacing to provide clients a consistently high-quality project from planning to first use. For more information on Paragon Sports Constructors please visit www.paragon-sports.com, or follow them on social media at LinkedIN, Twitter, and Facebook.