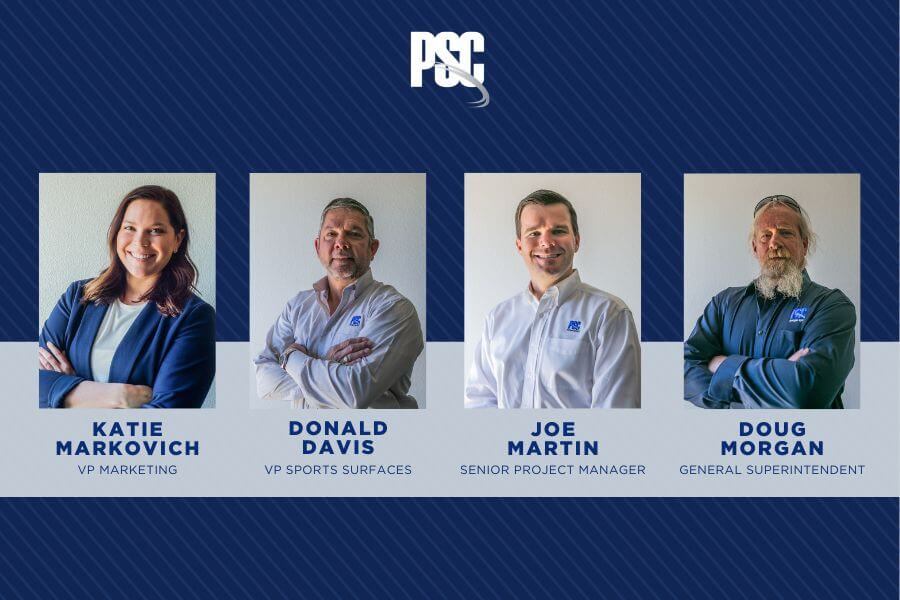 In a year full of increasing and exciting growth for the company, Paragon Sports Constructors is pleased to announce the promotions of Katie Markovich, Joe Martin, Donald Davis, and Doug Morgan. All four have been an integral part of Paragon Sports Constructors' success and much deserving of the recognition.
Katie Markovich, Vice President of Marketing
Katie joined our team thirteen years ago as one of the first hires at PSC and has been a trailblazer in developing the Paragon brand. Starting in an administrative role, Katie's responsibilities have expanded over the years with her passion of growing the PSC brand in the industry. Katie has contributed to PSC by finding new ways to sell and promote the brand, including unique partnership and sponsorship opportunities with key customers, assisting in the creation of Paragon's relationship with the Texas Rangers, and the implementation of our turf testing and maintenance program.
"Our culture is a big part of our brand and Katie has been a positive and professional influence on our culture as well. We are blessed with an incredibly talented operations team that has built incredible projects and Katie and her team have made sure that the world knows it which has built and enhanced our reputation," said William Chaffe, President of Paragon Sports Constructors.
Joe Martin, Senior Project Manager
Joe joined the PSC staff in 2017 as a project manager with over a decade of experience under his belt in the sports construction and surfacing industry. Starting as a track surfacing installer in 2003, Joe has since gained experience in project managing, estimating, sales, and marketing during his time in the industry. In his time at PSC, Joe has overseen various projects as a project manager and has played an influential part in the creation and growth of our design build program. In his new role, Joe will continue to manage complex projects while taking on a leadership role in our pre-construction activities and design-build program.
"As we continue to grow, Joe's extensive knowledge of the design and construction of not only tracks and fields but entire athletic facilities will be an integral part of developing our project management team and processes as well as Paragon's success," said Bobby Killion, Vice President of Operations.
Donald Davis, Vice President of Sport Surfaces
Donald has been with PSC since its inception and acquisition, starting as a Superintendent but also responsible for rentals and the small amount of equipment the company owned at the time. Since then, Donald's role has grown to include the oversight of the installation of all turf and track surfaces, procurement, and direction of rental equipment as well as a significant amount of company owned equipment and fleet vehicles. As we have grown and with the help of some talented foremen, Donald has developed new turf and track crews without sacrificing quality. Donald now manages two track installation crews and four turf installation crews, and with oversight of our equipment and fleet, is directly or indirectly responsible for a significant number of field crew.
"Donald has been an important part of PSC through our growth as a company in the field as well as in the office. After lots of hard work and dedication to Paragon, we are pleased to recognize Donald with this promotion," said William Chaffe, President of Paragon Sports Constructors.
Doug Morgan, General Superintendent
Before joining PSC as a superintendent in 2006, Doug worked in the sports construction industry for over 25 years in the areas of natural grass, synthetic turf, and track subgrade construction. Doug's expertise of the industry and in managing complex, demanding projects has been showcased through his work at PSC, including the projects of Texas Rangers' Globe Life Field, XFL Globe Life Park Stadium, and multiple high school and collegiate projects across the state and nation. In his new role, Doug will continue to lead and manage projects with his crew while also assisting in the allocation of resources for jobs, helping develop and communicate best practices, and assisting our superintendents with project specific problem solving.
"It goes without saying that Doug is one of the most experienced and most respected sports field builders not only in Texas, but in our industry nationwide. I have learned a lot from Doug over the last 8 years and am grateful for his continued counsel. I know I would not be where I am today without his help and guidance," said Bobby Killion, Vice President of Operations.
ABOUT PARAGON SPORTS CONSTRUCTORS
Paragon Sports Constructors is a turn-key contractor of natural and synthetic turf sports fields, running tracks, and tennis courts based in Fort Worth, Texas. With over 40 years of sports construction experience we are one of the premier sports fields and running track contractors in the South-Central United States. Paragon Sports Constructors is a member of the American Sports Builders Association who remains focused on quality construction practices, choosing to partner with top brand name manufacturers of synthetic turf and track surfacing to provide clients a consistently high-quality project from planning to first use. Follow along on Twitter, Facebook, and LinkedIn.