Problem Solving Through Design-Build for First Baptist Academy
First Baptist Academy enlisted the expertise of Paragon Sports Constructors to renovate the Riggs Track & Field at Rogers Stadium and provide their students and community a safe and durable playing surface for generations to come.
PAIN POINTS
Safety, quality, space utilization, and budget were top priorities for First Baptist Academy. The existing facility was dated, the track was cracking and heaving in areas, and the grass field was severely worn in high traffic locations. The site was restricted by the existing location of home and visitor bleachers, providing limited sideline space for the athletic field and field events. As a private school, balancing these pain points while capitalizing on their private donor budget was key to making this facility upgrade a reality.
---
---
PROBLEM SOLVING SOLUTIONS
To maximize space, Paragon Sports Constructors started by taking a site survey and recalculating the track geometry to ensure a proper 400-meter track could fit the site while simultaneously widening the field. Once confirmed, the site was cut and filled to allow for relocation of field events while moving the visitor's bleachers back eight feet to widen the narrow field and create more sideline space for athletic activities inside of the track. The long jump sand pits were relocated to the track chutes which allowed for a complete turf d-area on the field for additional athletic training space. Finally, a new shot-put area was cut into the Southwest corner of the property to bring the event closer to the track and field.
LONG TERM QUALITY
First Baptist Academy understood that to address the pain point for long-term quality and reduce heaving of the surface, sub-grade stabilization would be critical. To minimize future movement of the playing surface, substantial sub-grade stabilization was provided per the recommendation of a third-party geotechnical report. The owner invested in 10' deep moisture conditioning of the track and 5' moisture conditioning of the field with a 12" lime stabilized cap.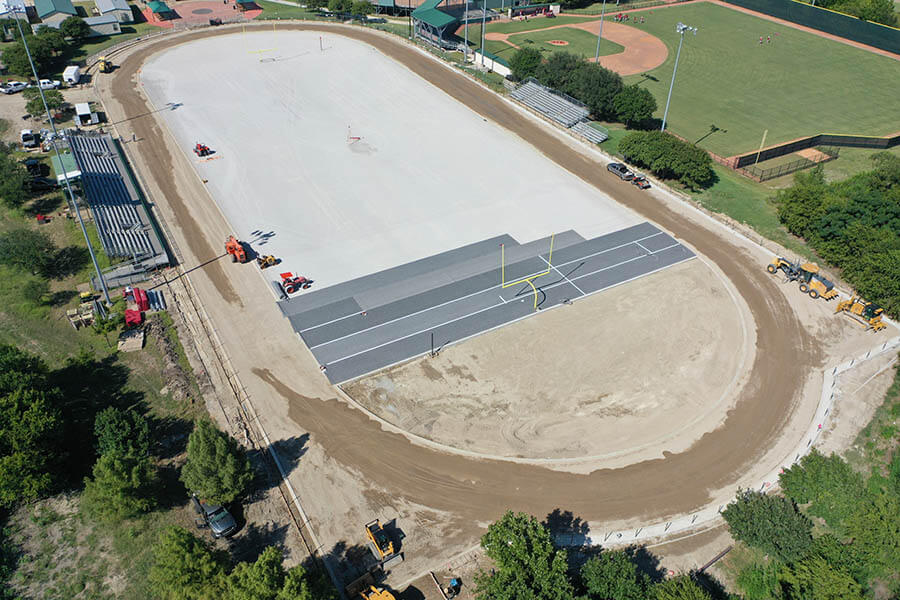 SAFETY AND PERFORMANCE
Safety and performance of the playing surface was a major factor in the facility renovation. The owner wanted to provide a durable, consistent playing surface but also combat the heat that can build-up on turf fields during hot Texas days. First Baptist Academy selected a performance system comprised of Shaw Sports Turf Legion Pro synthetic turf, NXTPlay pad, and Natural Fill infill. Natural Fill is a combination of Geofill coconut husk infill material and Safeshell walnut infill material. The natural infill materials are hydrophilic and can absorb and retain moisture. That moisture is then released over time and can provide evaporative cooling of the surface.
---
---
results
Finally, the owners budget concerns were satisfied through the design-build project process. From the onset, Paragon Sports Constructors was able to provide a complete scope of work to the owner and work through pricing options that would deliver their wish list within budget. Through turn-key management of the project, PSC was able to minimize the impact of the 40+ rain/weather days recorded throughout the renovation and still deliver the field for football season.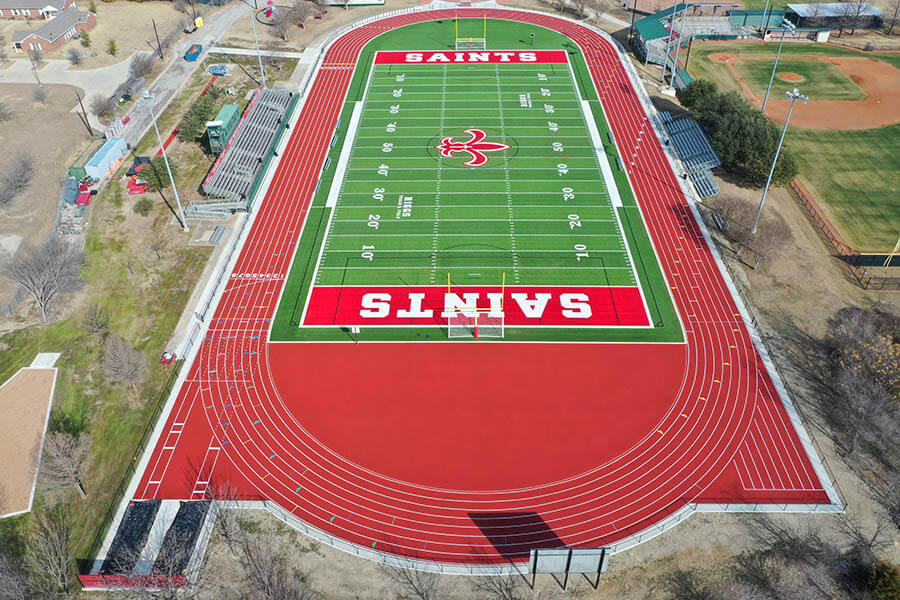 ---
---
About Paragon Sports Constructors
Paragon Sports Constructors is a turn-key contractor of natural and synthetic turf sports fields, running tracks and tennis courts based in Fort Worth, Texas. With over 30 years of sports construction experience they are one of the premier sports fields and running track contractors in the South Central United States. Paragon Sports Constructors is a member of the American Sports Builders Association who remains focused on quality construction practices, choosing to partner with top brand name manufacturers of synthetic turf and track surfacing to provide clients a consistently high-quality project from planning to first use. For more information on Paragon Sports Constructors please visit www.paragon-sports.com or follow them on Twitter @ParagonSportsCo.