William Chaffe, President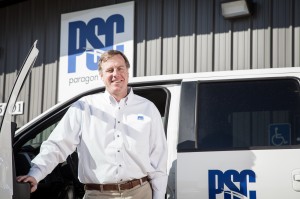 William brings over 25 years of experience in the design, construction and development of commercial projects to Paragon Sports Constructors.  Having worked as a consultant, owner's representative and principal, William lends a unique owners perspective and customer driven approach to managing the operations, sales and marketing of Paragon Sports Constructors.  William earned his degree in Civil Engineering from the University of Mississippi and his MBA from The University of Miami and sits on the advisory board of the TCU Sports Science Center.
Brian Roberts, Chief Financial Officer
Brian has over 20 years of financial and accounting experience with a strong background in real estate and commercial development for firms including Centex, Archon and Hillwood Development.  His professionalism and attention to detail have maintained Paragon Sports Constructors as one of the most financially stable companies in the industry with a substantial bonding line from an A++ rated surety (Philadelphia Indemnity Casualty Company).  Brian also oversees Risk Management for Paragon Sports Constructors ensuring that jobsite safety and security are a priority. Brian obtained his degree in Accounting from Virginia Commonwealth University.
Bret Allen, Vice President of Sales & Marketing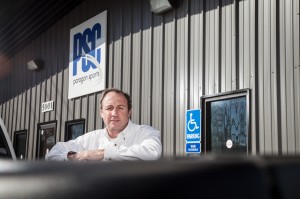 As Vice President of Sales & Marketing for Paragon Sports Constructors, Bret provides direction and oversight of the sales team, marketing personnel, and guidance for the estimating department in preparing of proposals and bids.  Bret got his start in the sports construction industry over 25 years ago as a surface installer for his family's track construction business.  He grew the family business into one of the largest turn-key sports field and running track companies in the region. Bret's knowledge of the sports construction industry and surfacing products is un-rivaled, making him a valuable part of the Paragon Sports team and an asset for any customer.  A native of Kansas, Bret earned his business degree from Pittsburg State University.
Rex Shelley, Vice President of Operations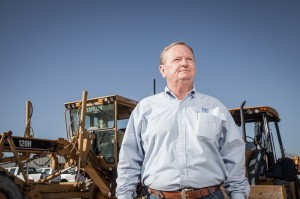 Rex manages the Estimating and Operations departments at Paragon Sports Constructors; he is a seasoned veteran in the light-civil and sports construction industries with over 30 years of field and management experience.  Rex provides continuity from the estimating desk to the field and ensures that our project superintendents have the equipment, labor, material and other resources available when they are needed.  Rex has directly or indirectly supervised and managed hundreds of civil and site construction projects throughout Texas and surrounding states and has overseen each turf and track project bid, contracted and constructed by Paragon Sports Constructors since his hire.
Bobby Killion, Project Manager
Bobby manages the buy-out, scheduling and day-to-day activities of athletic facility projects for Paragon Sports Constructors.  With a background in the light-civil and steel fabrication industries, Bobby brought over a decade of construction experience when he joined Paragon Sports Constructors in 2014.  His positive attitude, excellent communication and organization skills made for a smooth transition into the sports construction industry.
Joseph Martin, Project Manager
Joe is a results-driven professional with over a decade of experience in the sports construction and surfacing industry.  Joe got his start as a turf and track surfacing installer in 2003.  Since then he has worked his way up through the various aspects of project installation and management and obtained his ASBA Certified Track Builder status.  Joe's skills include estimating, scheduling, sales and marketing as well as on-site coordination and management.
Sharon Hall, Estimator
A seasoned project manager and estimator with over fifteen years experience, Sharon has overseen the estimating, bidding and construction of artificial turf fields, soil and sand based fields, running tracks, grandstands and other ancillary items.  Well known and respected in the industry, Sharon's knowledge of sub-contractors and vendors lends to her efficiency in project management and her detail oriented approach to estimating ensures accuracy in bidding and complete project scope for any owner.
Chris Bullis, Manager of Design and Estimating – Sports Surfaces
An ASBA Certified Track Builder, Chris leads the estimating of all synthetic turf and running track surfacing for Paragon Sports Constructors.  Chris started his career over 20 years ago as a track surface installer, worked his way up through the field and the estimating department while also learning Computer Aided Design.  In addition to estimating, Chris handles all conceptual track and field design and oversees turf production, ensuring that any field graphics are accurately represented in the final installations.  With hands-on field experience and technical savvy, Chris provides expertise in taking a project from paper design through cost estimate to construct-ability in the field.
Donald Davis, Manager of Sports Surfaces
Donald's career spans over 20 years in the construction industry.  His ability to multi-task and stay on schedule make him an asset for managing the complex installation schedules of our six synthetic turf and track surfacing crews.  With a keen eye for the smallest details of our surfacing, Donald also manages all service and warranty repair calls for Paragon Sports Constructors and oversees the management and maintenance of all equipment owned by our company.
Doug Morgan, Superintendent
Doug has over 30 years of experience in the sports construction industry.  With dozens of high profile projects under his belt, Doug has the experience to manage the most complex and demanding projects.  He has extensive knowledge and experience with the construction of sand based natural grass and synthetic turf sports fields.  Well known and respected in the sports construction industry, Doug takes personal pride to ensure that your project is completed on schedule and to the highest standards.
Doug's project history includes work for:  Denver Broncos, Green Bay Packers, Texas Rangers and Houston Astros at the professional sports team level.  He has also executed projects for The University of Texas, University of Nebraska, University of Kentucky, and Texas A&M University among others.
Josh Bucklew, Superintendent
Josh began his sports construction career with Paragon Sports Constructors in 2009, earning his promotion to Superintendent in 2016.  He has assisted and led numerous synthetic turf, natural grass and running track projects throughout Texas, Oklahoma and Louisiana and is skilled in all phases of civil construction for turf and track installations.  Josh is OSHA 30HR certified and oversees safety on project sites ensuring all Paragon personnel on-site follow OSHA safety practices.
Jeff Cottongame, Superintendent
Jeff has supervised projects for Paragon Sports Constructors throughout Texas, Oklahoma and Louisiana and is skilled in all phases of civil construction for turf and track installations.  Jeff is a team player and takes personal pride in every project no matter how large or small.  He works to build lasting relationships with each owner and project team member following up on projects long after completion.
Tony Ballard, Superintendent
Tony is a seasoned project superintendent with over 20 years of experience in the sports construction industry.  He is skilled at all aspects of construction and installation of synthetic and natural grass playing fields and running tracks. Tony has significant experience managing design build athletic facility projects that include additional trades such as sports field lighting and vertical construction for bleachers, press boxes, and other structures.