Castleberry ISD's Facility Upgrades at Camp Carter
Castleberry ISD, a land-locked Fort Worth area district, was looking to renovate their current baseball & softball facility, Camp Carter Athletic Complex, to keep up with the district's growth and other updated athletic facilities. Based on positive experiences over the years, Castleberry ISD chose Paragon Sports Constructors to construct their recent design build project, an immense overhaul of the facility's fields and surrounding areas.
---
---
VALUABLE PARTNERS
With a history dating back to 2016, Castleberry ISD has chosen Paragon Sports Constructors for multiple projects throughout the district, from the synthetic turf practice field at the high school to the turf replacement at W.O. Barnes Stadium and the multipurpose field Irma Marsh Middle School. As Castleberry ISD continues to grow, Paragon continues to collaborate with the district, helping them positively impact the students and surrounding community through sports and recreation.
---
camp carter complex PROJECT SCOPE of work
Demo of existing dugouts, concrete, backstop walls, and natural grass fields
Improved site drainage with storm utilities and detention pond
Excavation, flexbase cap & drainage stone installation
Installation of synthetic turf system
Dugouts with railing, lights, helmet & bat racks
Concrete backstop wall with backstop netting & padding
Covered batting cages with turf, netting & lights
New electrical lines & upgraded sound system
Irrigation and revegetation on surrounding grass areas
---
---
project challenges & solutions
Outdated drainage from existing utility and water lines at the complex needed to be addressed to ensure proper drained of the fields no matter the weather condition. To meet this goal, the project team raised the baseball field 18 inches to accommodate the new drainage system, then constructed a berm and retention pond by the baseball field to provide an outlet for both fields' drainage.
beyond turf installation
Castleberry ISD sought out to improve the areas surrounding their baseball and softball fields, ultimately upgrading student-athletes and spectators' experiences at the complex. With this, the project team was tasked with installing multiple vertical structures at Camp Carter, including new bleachers and press boxes, as well as dugouts and covered batting cages for both baseball and softball. Under the supervision of superintendent Juan Godinez, Paragon Sports Constructors poured structural concrete throughout surrounding areas of the baseball and softball fields, providing proper foundations for the bleachers and other foundational aspects of Camp Carter. The overall project renovation provides the baseball and softball programs with their own home field advantages for years to come. Additional project details can be found here.
---
project details
Baseball: Grass areas Shaw Sports Turf Legion Pro / Base path & pitcher's mound Shaw Sports Turf TruHop / Infill Sand & Rubber
Softball: Infield Shaw Sports Turf TruHop / Outfield Shaw Sports Turf Legion Pro / Infill Sand & Rubber
---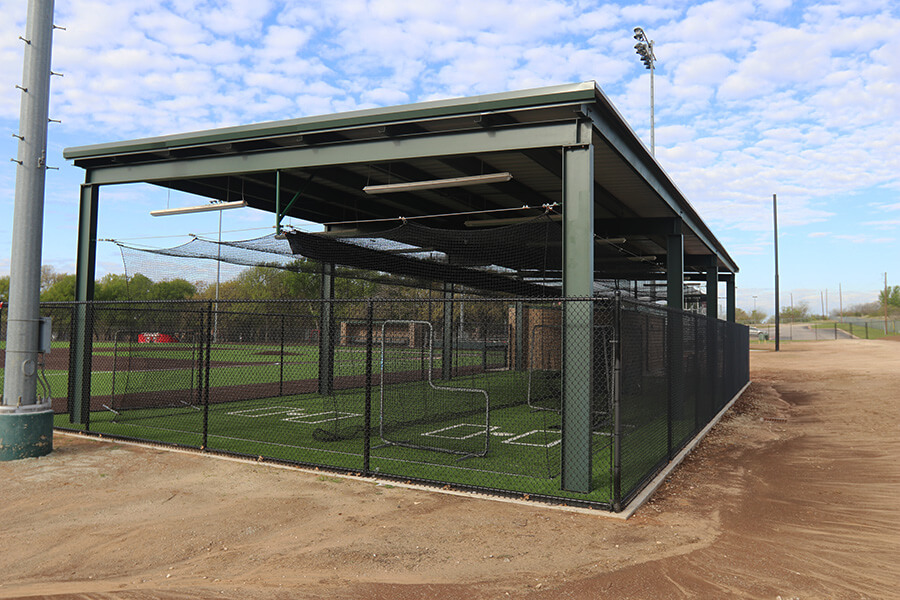 About paragon sports constructors
Paragon Sports Constructors is a turn-key contractor of natural and synthetic turf sports fields, running tracks and tennis courts based in Fort Worth, Texas. With over 40 years of sports construction experience they are one of the premier sports field and running track contractors in the South-Central United States. Paragon Sports Constructors is a member of the American Sports Builders Association who remains focused on quality construction practices, choosing to partner with top brand name manufacturers of synthetic turf and track surfacing to provide clients a consistently high-quality project from planning to first use. For more information on Paragon Sports Constructors please visit www.paragon-sports.com, or follow them on social media at LinkedIN, Twitter, and Facebook.