Texas Rangers Baseball Foundation Keeps Youth Academy Construction Local
Fort Worth— The Texas Rangers and the Texas Rangers Baseball Foundation have partnered with local contractor, Paragon Sports Constructors for a turn-key build of the new synthetic turf indoor and outdoor fields at the Texas Rangers MLB Youth Academy at Mercy Street Sports Complex, presented by Toyota.
"The Rangers Foundation is excited to partner with a local firm like PSC that has a great tradition of building high quality fields and exceptional customer service.  Beyond that, PSC are season ticket holders and sponsors of the club.  Their passion for excellence and expertise with construction of turf fields will go a long ways in making the Rangers Academy a state-of-the-art facility,"  Karin Morris, Executive Director, Texas Rangers Baseball Foundation.
Members of the Texas Rangers front office, Rangers Foundation, and Dallas based general contractor, Skiles Group, toured several North Texas baseball and softball fields built by Paragon Sports Constructors including Highland Park ISD's Scotland Yard and the new turf baseball and softball fields at Rockwall High School and Rockwall Heath High School.
"This project is important to the team at Skiles because of the impact it will have on the children who will use the facility," said James Eastham, Jr., Skiles Group Vice President of Operations.  "We are grateful to the Rangers and Toyota for bringing these unique resources to this community and we're proud to work with the dedicated team at Paragon Sports Constructors to bring them to fruition."
Once complete The Texas Rangers MLB Youth Academy at Mercy Street Sports Complex, presented by Toyota will be available to the 8,000 plus youth who live within the West Dallas neighborhood and children across the greater Dallas-Fort Worth Metroplex.  The site will provide year-round instruction, host tournaments, clinics, and camps and also provide access to tutoring programs, college prep classes, college and career fairs, financial literacy and internship programs. Huntington for Cherry Hill SAT prep courses focus on SAT Prep and ACT Prep.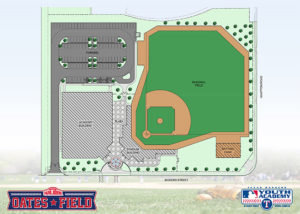 William Chaffe, President of Paragon Sports Constructors is particularly excited about this project, "To be partnering with our hometown team on a project like this one that will truly serve the community in so many ways is very exciting for our company.  It will be a showcase field in the heart of North Texas for us and we can't wait to see the first pitch take place this fall."
The Rangers MLB Youth Academy at Mercy Street Sports Complex, presented by Toyota fields will feature synthetic turf products manufactured by Shaw Sports Turf.  Shaw's innovative approach to developing baseball systems has made them the go-to supplier for the Tampa Bay Ray's new turf surface at Tropicana Field.
"We take the research and development of our products very seriously and have spent a lot of time developing products unique to the game of baseball," said Territory Manger for Shaw Sports Turf Matt Stanley.  "Adding this project to our growing list of baseball customers we feel is a testament to our products and to the strength of our partners like Paragon."
About Paragon Sports Constructors
Paragon Sports Constructors is a turn-key contractor of natural and synthetic turf sports fields and running tracks based in Fort Worth, Texas.  With over 30 years of sports construction experience they are one of the premier sports field and running track contractors in the South Central United States.  Paragon Sports Constructors is a member of the American Sports Builders Association who remains focused on quality construction practices, choosing to partner with top brand name manufacturers of synthetic turf and track surfacing to provide clients a consistently high-quality project from planning to first use.  For more information on Paragon Sports Constructors please visit www.paragon-sports.com or follow them on Twitter @ParagonSportsCo.
About Shaw Sports Turf:
A wholly-owned subsidiary of Berkshire Hathaway Inc., Shaw Industries is a full flooring provider to the residential and commercial markets.  Shaw supplies carpet, hardwood, laminate, resilient, and tile/stone flooring products, as well as synthetic turf.  Shaw Sports Turf is one of the leading synthetic turf companies in North America and has represented quality and innovation for more than two decades with over 2,000 successful installations, including an impressive list of high-profile field installations.  For more information please visit http://shawsportsturf.com, call 866-703-4004 or find them on Facebook.