Highland Park ISD Scotland Yard Receives New Turf
Scotland Yard baseball field at Highland Park Independent School district received a new synthetic turf surface in the off-season.   Paragon Sports Constructors partnered with the district and their storied baseball program to install a field which addresses the unique playing characteristics of baseball and the challenges posed by typical synthetic turf installation.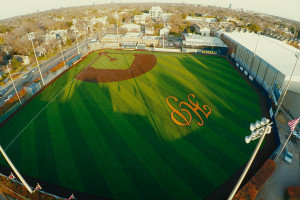 To address the common concern among baseball athletes and coaches that synthetic turf does not adequately replicate the grass and clay areas in baseball, the original synthetic surface was replaced with dual products from Shaw Sports Turf.  Shaw Sports Turf Legion Pro was utilized for the grass areas and the TruHop product in chocolate color was installed for the clay base paths.  The two different turf products are specifically designed to mimic the varying surface areas on a baseball field.
"We've used a closer cropped turf for the chocolate areas, for the cut areas, with a lot higher sand content for a more natural clay bounce," commented William Chaffe, President of Paragon Sports Constructors.  "For the grass areas we used a turf that has a rigid monofilament and it looks, plays, and bounces more like natural grass."
Another concern common among the baseball community is maintenance of the pitcher's mound.  Clay mounds require regular maintenance and often bleed into the turf areas creating aesthetic concerns and drainage problems for the field.  But synthetic turf mounds wear out quickly in the front where the pitcher's plant foot lands.  For Scotland Yard a unique concrete mound with rubberized turf underlayment was installed.  The rubberized underlayment was installed completely by hand over a concrete form then surfaced with the Shaw Sports Turf TruHop product.  This design facilitates drainage while creating a more stable footing for the pitcher's plant foot and helps prolong the life of the mound turf.  The new turf mound provides a durable all-weather solution while eliminating the routine maintenance of a traditional clay mound.
"We can maximize our practices every single day.  If I have a two hour practice I have about an hour of maintenance to do if it was a regular dirt and grass field," Travis Yoder, Varsity Baseball Coach for Highland Park High School.
Paragon Sports Constructors is dedicated to working with our clients across the state of Texas to provide athletic facilities that meet their needs and provide solutions to their concerns.  For more about this unique project and Paragon Sports Constructors: