Fort Worth— PBK Sports and Paragon Sports Constructors are teaming up to cook-out and help Falls City ISD raise money for the Port Aransas ISD Disaster Relief Fund at the Falls City versus Shiner football game this Friday, September 22nd at Beaver Stadium.
The two companies worked as designer and builder of the newly renovated stadium for Falls City Independent School District this past year.  During the course of the project the old stadium, which was oriented East-West, was demolished, reoriented North-South, and outfitted with a new synthetic turf playing field, and IAAF regulation running track.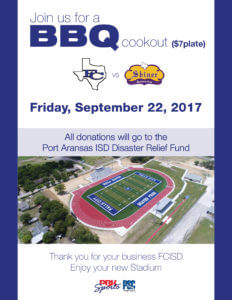 "We have been planning to cook-out at this game for a while as a Thank You to the district for their business; all proceeds were going to benefit Falls City student programs," commented Bobby Killion, Project Manager for Paragon Sports Constructors.  "Then Harvey hit and this weekend Todd Pawelek (Falls City ISD Superintendent), called me to say they wanted to make the game, and our cook-out, a fundraiser for Port Aransas ISD."
This Friday marks one month since Hurricane Harvey made landfall in Texas on August 25th.  Port Aransas was particularly hard hit with schools not set to re-open until October 16th.
"We do a few of these cook-outs each year and the way we see it, the money raised is the district's money, it is their discretion who benefits from it, we cover the cost and provide the service," added Katie Markovich, Director of Marketing for Paragon Sports Constructors.  "It's all in good fun and gratitude but this cook-out is taking on a special purpose for everyone involved."
BBQ plates will be sold for seven dollars each with 100% of the proceeds and any additional donations going to the Port Aransas ISD Disaster Relief Fund.
Kick-off is 7:30pm.
About Paragon Sports Constructors
Paragon Sports Constructors is a turn-key contractor of natural and synthetic turf sports fields and running tracks based in Fort Worth, Texas.  With over 30 years of sports construction experience they are one of the premier sports field and running track contractors in the South Central United States.  Paragon Sports Constructors is a member of the American Sports Builders Association who remains focused on quality construction practices, choosing to partner with top brand name manufacturers of synthetic turf and track surfacing to provide clients a consistently high-quality project from planning to first use.  For more information on Paragon Sports Constructors please visit www.paragon-sports.com or follow them on Twitter @ParagonSportsCo.
About PBK Sports
PBK Sports is a trailblazer in modern sports venue planning, design and construction.  They offer a hybrid studio of engineers and architects that specialize exclusively in delivering programming, design and construction oversight for sports and multipurpose event facilities.  Each project is done with a team-focused approach that anticipates and strives to exceed the expectations of players, coaches, and spectators.  For more information on PBK Sports please visit www.pbk.com.
The damage left in the wake of Hurricane Harvey has devastated communities throughout the Texas Gulf Coast with many of our fellow Texans sustaining losses in their personal and professional lives.  As the cornerstone of many communities the damage done to school facilities is devastating but also a spot for hope and encouragement in the rebuilding process and we look to our fellow contractors and Texans to work hand-in-hand in this rebuilding process.
Paragon Sports Constructors is offering complimentary outdoor athletic facility assessment to public and private schools, municipalities and those working with them across the Federal disaster area declared in Texas.  Our personnel can survey any affected sports field or track facility for damage caused by the storm including:
Take infill site samples for contamination testing by a third-party lab
Inspect for damage to the field from heavy debris or flood water
Assess infill levels due to migration under flood waters
Assess removal of mud and other materials that may have deposited on the surface
Inspect clay skinned areas of natural grass baseball and softball fields for refurbishment
Survey polyurethane track surfaces for repairs or delamination
Inspect goal posts to ensure proper level
Inspect and account for all appropriate field equipment including jump pit covers, take-off boards, and comm box covers
Upon assessment of facilities we are ready to provide the following services as needed:
Deep cleaning, debris removal, and disinfection of synthetic turf athletic fields
Add infill to bring levels back to up ideal level for safe play or remove and replace infill if required
GMax testing of synthetic turf fields
Rebuilding of mounds and clay skinned areas on natural grass baseball and softball fields
Cleaning of debris and sediment from track surfaces
Patch and repair of track surfaces
Removal and replacement of synthetic turf surfacing and polyurethane running track surfacing
We are here to help and are ready to work with insurance and FEMA recovery processes to get the schools of Texas Gulf Coast back up and running.  We hold multiple EDGAR compliant purchasing co-operative contracts and understand the process required for disaster recovery renovations.
Please contact Bret Allen at (817) 692-0481 or ballen@paragon-sports.com to schedule an athletic facility assessment.