Fort Worth, Texas (June 30, 2015)—  The Fort Worth Independent School District is getting the first glimpse of what the new practice fields at eleven of the District's traditional high schools will look like with the installation of new synthetic turf at South Hills High School set for completion at the end of this week.
In April, Paragon Sports Constructors was awarded the contract to convert the existing natural grass fields at high schools that do not currently have synthetic turf.  All fields are under construction with the practice field at South Hills High School being the first to receive the new synthetic turf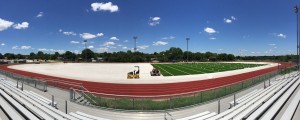 surfacing.
"This project is a rather large undertaking.  To be awarded and execute eleven fields at various sites across a large geographic area on a tight timeline is very challenging," commented William Chaffe, President of Paragon Sports Constructors.  "We felt confident we could meet the challenges of this project, probably the largest single project ever awarded in our market, and we are excited to deliver these fields for the students, staff and community of Fort Worth ISD."
Polytechnic High School will be the next school to turn green with turf installation scheduled to start this week.
"We have planned carefully to stagger the construction and installation of these sites and posses the resources to complete such a sizable project," added Mr. Chaffe.
Excitement at the District is running high for the completion of these fields.
"These fields will be used by both student-athletes and student-musicians and we know these fields will add to the safety of student participation," said Dr. Patricia Linares, Interim Superintendent for Fort Worth ISD. "Since the fields were not part of the voter-approved 2013 Capital Improvement Program, it is truly fortuitous that we can commit non-bond money to provide turf fields."
About Paragon Sports Constructors
Paragon Sports Constructors is a turn-key contractor of natural and synthetic turf sports fields and running tracks based in Fort Worth, Texas.  With over 30 years of sports construction experience they are one of the premier sports field and running track contractors in the South Central United States.  Paragon Sports Constructors is a member of the American Sports Builders Association who remains focused on quality construction practices, choosing to partner with top brand name manufacturers of synthetic turf and track surfacing to provide clients a consistently high-quality project from planning to first use.  For more information on Paragon Sports Constructors please visit www.paragon-sports.com or follow them on Twitter @ParagonSportsCo.