Big changes are underway for Abilene Christian University as they make the transition to compete at the NCAA Division 1 level after joining the Southland Conference; among those changes is the new running track facility now under construction at the campus in Abilene, Texas.
To make room for the planned football stadium the existing running track is being relocated adjacent to its current site.  Under contract to Beynon Sports, Paragon Sports Constructors will provide turn-key construction of the new running track and natural grass field from excavation up to asphalt paving and oversee grow-in of the natural grass infield.  Upon completion of the civil work Beynon Sports personnel will install a custom purple and dark grey BSS 1000 full-pour track surface.  The project is scheduled to be complete at the end of November and ready for the 2015 track season.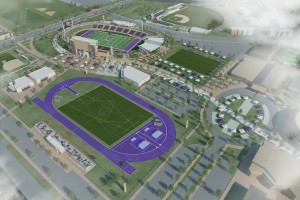 "Over the last four years we have been able to provide some of the finest collegiate running tracks to our customers across the Texas and Oklahoma markets because of the quality of Paragon Sports Constructors workmanship.  When ACU contracted with us we knew it was a project we wanted Paragon Sports Constructors to build," commented Rick Ediger, VP of Operations for Beynon Sports.
The ACU project is the fourth NCAA Division 1 running track executed by Paragon Sports Constructors and Beynon Sports.  Previous NCAA projects include the new track facility currently being surfaced at Baylor University in Waco, and Oklahoma State University and Texas State University the previous two years.
"We are always excited and feel very fortunate to contract high profile projects such as this one," commented William Chaffe, President of Paragon Sports Constructors.  "We appreciate Beynon Sports recognizing the quality work our personnel provide by inviting us to execute the ACU project with them."
ABOUT BEYNON SPORTS
Beynon Sports Surfaces was founded by John T. Beynon with the vision of creating the highest performing synthetic surfaces designed for speed and competition, as well as daily training. Beynon's premier track and field surfaces are found in the world's most renowned athletic facilities, carrying some of the greatest champions to record-breaking times.
For more information on Beynon Sports, please visit beynonsports.com, like them on Facebook and follow them on Twitter.
About Paragon Sports Constructors
Paragon Sports Constructors is a turn-key contractor of natural and synthetic turf sports fields and running tracks based in Fort Worth, Texas.  With over 30 years of sports construction experience they are one of the premier sports field and running track contractors in the South Central United States.  Paragon Sports Constructors is a member of the American Sports Builders Association who remains focused on quality construction practices, choosing to partner with top brand name manufacturers of synthetic turf and track surfacing to provide clients a consistently high-quality project from planning to first use.
For more information on Paragon Sports Constructors please visit paragon-sports.com and follow us on Twitter.